As a child, Dirk Kome (b. 1976) would spend hours on a rainy day entertaining himself with the many photographs, slides and films at his grandparents' home in Zuidland. This is probably where his fascination with historical photographs began. The pictures allowed him to travel back and forth in time. Since graduating from the Gerrit Rietveld Academy he has tried to come to grips with time through photography, often working with archive material. This was how he came to discover three photographs taken by Tonnis Post (1877-1930). The pictures fascinated him, and he began an extensive search for more images by the local photographer from Groningen. Eventually, he managed to trace almost all of Post's work, and he has since combined it with his own, revisiting the places where Post took his photographs a hundred years ago. The result of this extraordinary project will be on show for the first time at The Hague Museum of Photography.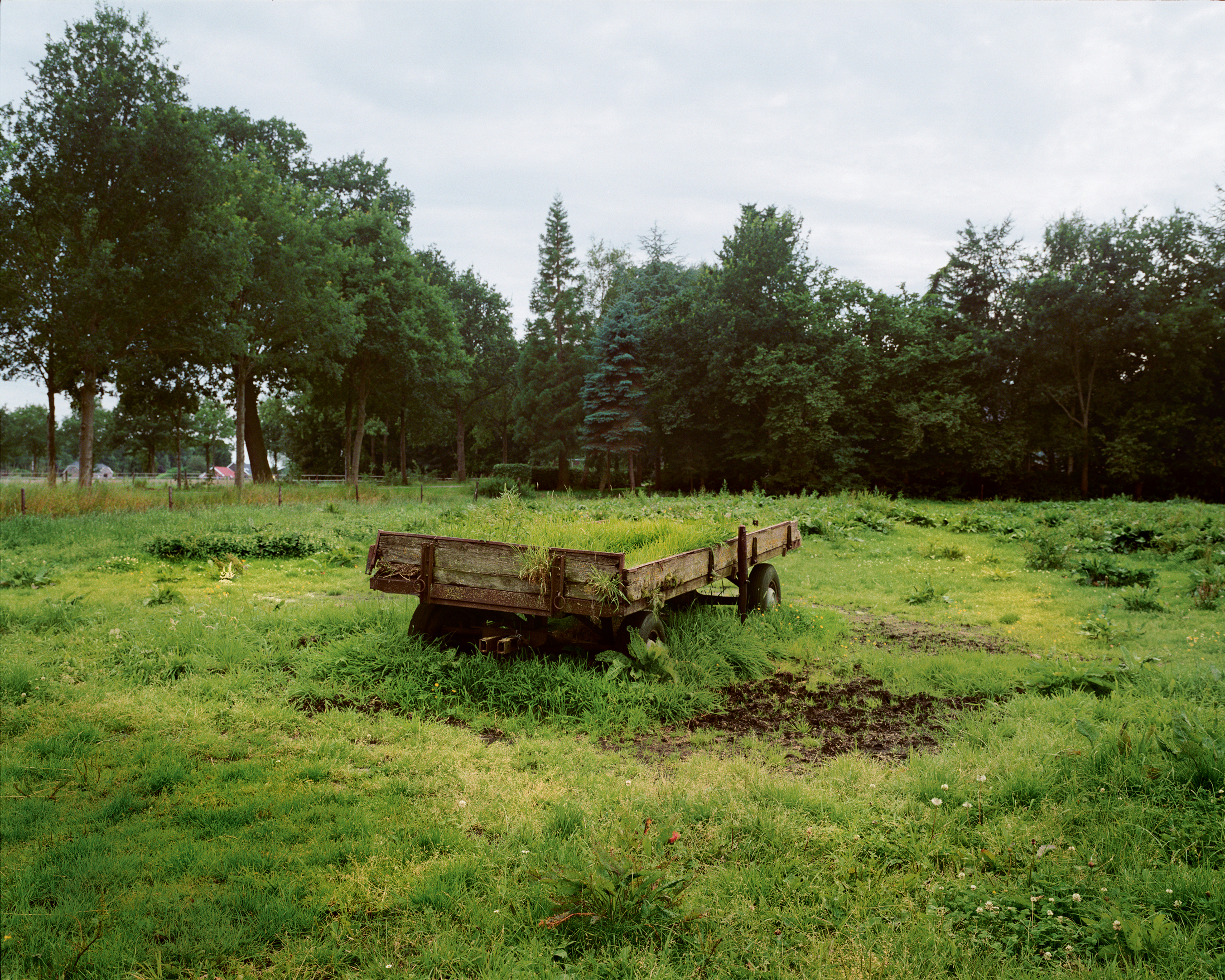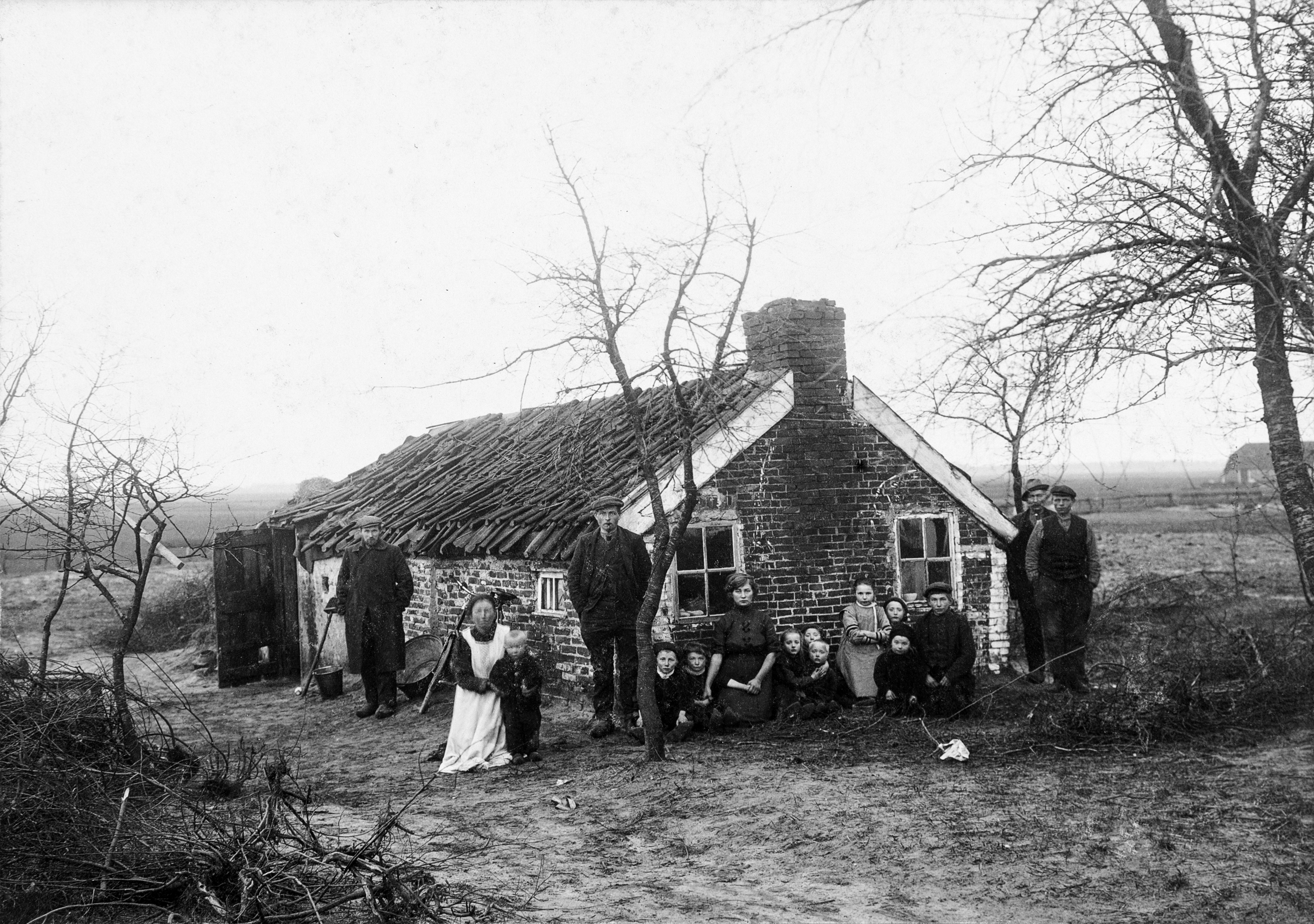 In the late nineteenth century, at a time when a photograph was a luxury and only a few people owned a camera, photographer Tonnis Post took pictures that illustrated the irreversible advent of the modern age. His name is now virtually forgotten, but many will recognise his pictures of the poor, living in turf huts. These photographs are part of a much broader body of work in which Post recorded social progress, as factories were built, the first mechanical farm equipment was introduced, canals were dug by hand and a steam tram line was laid from Ter Apel to Delfzijl. Tonnis Post was there to record everything in sharp focus.
With his large wooden plate camera and his heavy shoulder bag containing glass negatives, Tonnis Post criss-crossed eastern Groningen province on his bike, bumping over muddy paths, for there were no metalled roads as yet. The water authority, the steam tram company and a farm equipment company were his main clients. In addition, for four years he photographed people from the lowest social classes, documenting a way of life that no longer exists: poor Groningen residents standing before their half-buried turf huts; children in cramped box-beds round which pigs or sheep scratched for food; families with dozens of children posing before a small dilapidated farmhouse.
Dirk Kome became so fascinated by Post's photographs took that he embarked on a search for more. It was no simple undertaking, as Post was no longer really known by name. Kome therefore focused on his subjects and clients, visiting archives and talking to descendants of the people in the portraits. He issued requests on local radio stations and in local newspapers, asking people to search through their grandparents' albums and dusty shoeboxes in the attic. In this way, Dirk Kome managed to bring together over a thousand photographs. Driven by curiosity, after each visit he would return from Groningen to his home in Amsterdam with new discoveries.
Groningen then and now
Kome has used the photographs to explore what is left of what Tonnis Post immortalised back then. More than a hundred years after Post took his iconic pictures, Kome criss-crossed Groningen with his camera, not on his bike but in the comfort of his car. As the search for photographs slowly but surely revealed a picture of Tonnis Post's long career, and of the Netherlands around the time of the First World War, Kome himself created new images, following in the footsteps of his predecessor. This project, which took him two-and-a-half years to complete, was a form of 're-photography', as Kome set about documenting what has become of the projects Tonnis Post photographed and taking portraits of the descendants of people Post once portrayed. Do the descendants of the wealthier ones still live a comfortable life? What has become of the grandchildren of those who lived in turf huts? Did the construction of the canals bring the prosperity they were supposed to bring? The exhibition at The Hague Museum of Photography will show the pictures of Tonnis Post and Dirk Kome together, finally giving Post exposure in a museum setting almost a century after his death, as a selection of his work is displayed in dialogue with the photographs of Dirk Kome.
Tonnis Post
Tonnis Post was born in Loppersum in 1877. After training as a photographer at the Minerva Art Academy, in 1901 he took over a 'Photo Studio' in Winschoten. Besides photographing the stream of customers who flooded to the studio, he also regularly travelled around the province working on commissions for corporate clients. With his photographs of the daily lives of impoverished residents of Groningen province, Tonnis Post unwittingly joined the ranks of international photographers like Jacob Riis and Lewis Hine, whose photographs highlighted social issues and drew the attention of politicians, and ultimately helped improve the lives and living conditions of the poorest members of society. After Post's death in 1930 his studio was dismantled and his glass negatives discarded. The man who had immortalised the relatives of so many people thus fell into obscurity.
Dirk Kome
Dirk Kome (b. 1976) comes from Rockanje, where his father and brother still run a farm. He studied at the Gerrit Rietveld Academy and the Rijksacademie in Amsterdam. As a photographer, his work links what is and what used to be. His 2015 publication 'Rockanje' documents his family's farm.
Publication
The publication Fotografen van de voortuitgang (in Dutch only [anders evt Engelse titel invoegen svp]), designed by Tessa van der Waals, will appear in conjunction with the exhibition.
The exhibition has been created in close collaboration with the Groningen Archives, the Netherlands Open Air Museum, Hunze en Aa's water authority and almost a hundred private individuals who have provided works on loan. The Mondrian Fund and Kunstraad Groningen contributed funding to the project. After its run at The Hague Museum of Photography, this autumn the exhibition will move to MOW | De Oude Wolden in Bellingwolde.
The Hague Museum of Photography would like to thank its chief sponsor, law firm Pels Rijcken & Drooglever Fortuijn and the Erik Bos Fund for their support.