"I'm searching for the world as it really is."
Eddy Posthuma de Boer (1931) has been obsessed with photography since the moment he picked up his first camera more than seventy years ago. He always carries his camera with him and works mainly on the street. Together with Ed van der Elsken and Johan van der Keuken, he is one of the most important post-war Dutch photographers. His oeuvre betrays a great love for people and an urge to record shared human experiences. He leaves no aspect of life untouched: he zooms in on drama but also has an eye for humour. His work has been frequently published in newspapers and magazines such as Het Parool, De Volkskrant, Time-Life, Avenue and Paris Match. But his main focus throughout his long career has been compiling books of his photographs. Fotomuseum Den Haag presents a major survey of the photographs of this living legend, with an emphasis on the works of the 1950s, 1960s and 1970s.
Photography has taken Eddy Posthuma de Boer to more than eighty-five countries, where he has witnessed historic events and come face to face with world leaders. He has spent most of his life on the road as a photojournalist but has also created a highly personal body of work, which he has collected in dozens of photo books.
Posthuma de Boer's work has been greatly influenced by humanist photography, the social-documentary movement that emerged in Europe just after the Second World War. It was characterised by the representation of the human condition, the recording of the traditions and customs that connect us as human beings, and a genuine confidence in social progress. Representatives of this movement include Henri Cartier-Bresson (1908-2004), Robert Doisneau (1912-1994) and Eva Besnyö (1910-2003), who was a major source of inspiration for Postuma de Boer and whom he considered his 'photography mother'. 
But Posthuma de Boer's work also shows another side of post-war life: the emergence of youth culture with jazz and rock and roll music, and the widespread social unrest of the late 1960s and 1970s. In this respect, he is in the illustrious company of colleagues such as Ed van der Elsken (1925-1990) and Johan van der Keuken (1938-2001): the Existentialist generation whose work was informed by their individual vision and who no longer believed in the myth of progress. Posthuma de Boer's optimistic viewpoint therefore has a raw edge.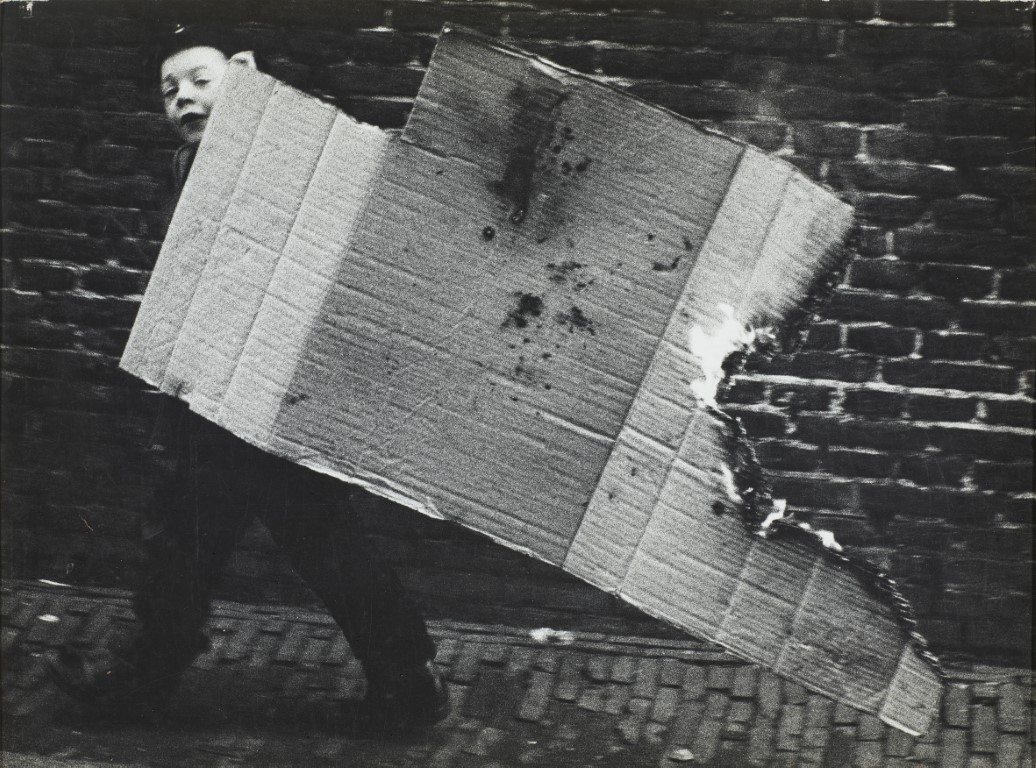 The first photo of God
This exhibition focuses on Posthuma de Boer's work from the 1950s to the early 1980s, including works from his first major exhibition at the Stedelijk Museum in Schiedam in 1961. There is also an emphasis on his special connection with the literary world. His love of language and literature is reflected in his many portraits of writers and in the puns that he finds on nameplates, in shop windows and in the chance encounters of text and passers-by.
The exhibition's title, The First Photo of God, refers to the poem that Cees Nooteboom (1933) wrote about Posthuma de Boer's portrait of a simple Spanish farmer. Is the farmer, whose labour is so intimately bound to nature, portrayed here as a creator, his feet firmly placed on the untilled soil? Or is the real creator the photographer who creates the image of man?